Cascada initially staked the Golden Lake Project in October 2022 and added further to the project by optioning adjoining concessions, covering the Monreal and El Mirador showings, in early 2023. The Golden Lake concessions overly a portion of the Pollux Gold District which hosts a series of extensive gold-silver bearing veins initially discovered by Homestake Chile in the early 1990's.
The Golden Lake Property represents an interesting opportunity to acquire open ground in the Pollux Gold District which has seen renewed exploration interest by Newmont and others.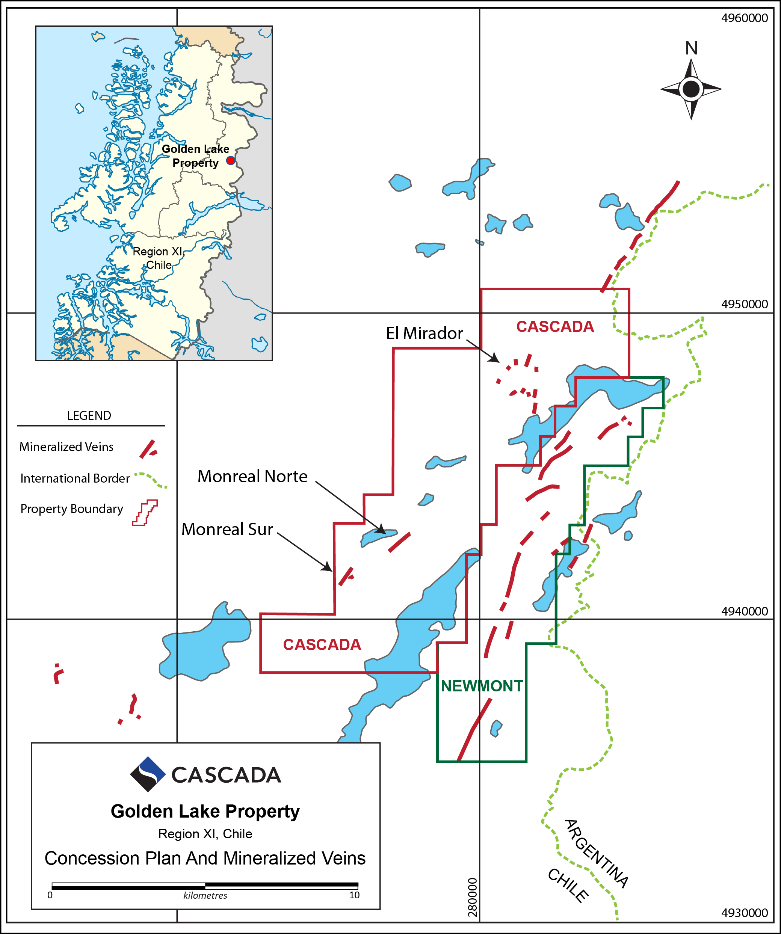 The undrilled Monreal system comprises a series of brecciated quartz veins in volcanic tuffs which are high priority targets for Cascada.
Historical grab sample assays from Monreal Sur material include:
8.90 g/t Au and 8.7 g/t Ag
7.63 g/t Au and 12.6 g/t Ag
2.17 g/t Au and 2.2 g/t Ag
The less eroded Monreal system lies approximately 200 metres higher than the adjacent eastern vein trend and; therefore, higher grade bonanza-style gold and silver mineralization may have been preserved.
Historical Results Note: Cascada has not undertaken any independent investigation of any sampling from the Golden Lake Property nor has it independently verified the assay results presented. The reader is cautioned upon relying on the accuracy of the historical results presented; however, Cascada considers the historical assay results relevant as it will use the results as a guide to plan future exploration programs and considers the data to be reliable for these purposes.