Cascada has an option to acquire a 100% interest in the 2,000 hectare Angie Copper Molybdenum Porphyry Project located in Region III, Chile, approximately 75 kilometres east of the City of Copiapo. The Angie Project is located at lower altitudes (2,800 to 3,200 metres) with good road access.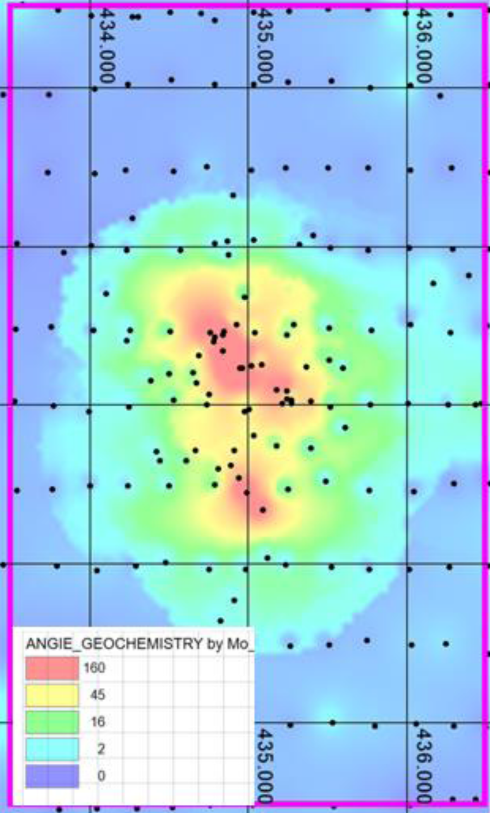 Geochemistry and Geology
Historical geochemical rock chip sampling on the Angie Project outlined a +50 ppm molybdenum anomaly encompassing an area of approximately 1,000 by 1,500 metres with molybdenum assays of up to 1,150 ppm. The undrilled molybdenum anomaly is associated with elevated tin and tungsten. Molybdenum anomalies commonly occur as halos around Chilean copper porphyry systems.
The majority of the molybdenum anomaly is hosted within a granodiorite through which erosion has exposed narrow potassic-altered, dacitic porphyry units cut by abundant quartz veins with local tourmaline and oxidized sulphide remnants. It is interpreted that the molybdenum anomaly and associated induced polarization anomaly are associated with a mineralized porphyry system at depth.
Historical Results Note: Cascada has not undertaken any independent investigation of any sampling from the Angie Project nor has it independently verified the results of the geochemical sampling program. The reader is cautioned upon relying on the accuracy of the historical results presented; however, Cascada considers the historical assay results relevant as it will use the results as a guide to plan future exploration programs and considers the data to be reliable for these purposes.
Induced Polarization Geophysics
Two lines of induced polarization geophysics completed over the area covered by the molybdenum anomaly outlines an elevated chargeability anomaly with a coincidental resistivity anomaly. This is the primary drill target.